Warp Door's February 2017 Round Up
If February 2017 has a motto to spur us along it is "EVERYTHING IS GOING TO BE OK," which is the title of one of the games in this month's round-up. Other games seem less optimistic about the future, having us instead break reality into two or three, or spend our time throwing rocks into a space portal (better that than dwelling on existentialism).
There are also a lot of games that are very Warp Door this month: David Kanaga's dog opera Oikospiel, the quiet lunar exploration of Living With The Moonoliths, and the fragmented textual memories of uncomfortably to name a few. Have a browse through our entire selection below. And if you want to find more convenient collections of games such as this check out our round-up tag.
---
EVERYTHING IS GOING TO BE OK (Nathalie Lawhead)
"a collection of vignettes inspired by life experiences, difficult situations, and surrealist retrospection." - Author's description
Purchase for $1 on itch.io (Windows, Mac)
---
Takume (Stephan Hövelbrinks, Lara Kaaa, James Dean, Chris Early)
"Takume is a very short atmospheric and dramatic adventure game. A mystic story about identity, dreaming and dealing with past events." - Author's description
Download on itch.io (Windows, Mac, Linux, Android)
---
The League of Lonely Geologists (Takorii, Young Videogames, MC Hepher, Zenuel, isyourguy)
"awkward & uncomfortable rock collection" - Author's description
Download on itch.io (Windows)
---
Splitter Critters (RAC7 Games) "Split the world with a swipe of your finger and then rearrange it to guide critters back to their spaceship." - Author's description
Purchase for $2.99 on the App Store (iOS)
---
The Unbreakable Chain (GHXYK2)
"let's step into this drawing, have a walk around and see what there is to eat." - Author's description
Download on itch.io (Windows)
---
Coincident Spaces (Marek Kapolka)
"Just a neat little experiment about being in two places at once." - Author's description
Download on Glorious Trainwrecks (Windows, Mac, Linux)
---
WitchWay (Andrew Gleeson, Henri Rochefort, Niilo Takalainen, Nathan Antony)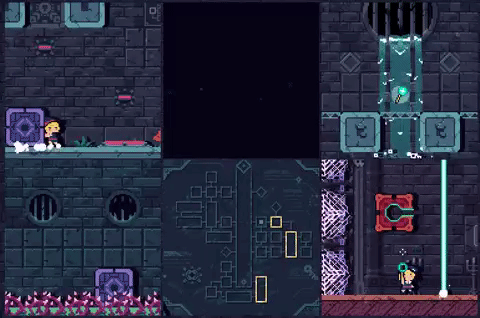 "Find your wand, save the bunnies and solve your way out of the well!" - Author's description
Purchase for $4 on itch.io (Windows)
---
DEMISE (Yan Knoop, Keano Raubun, Mikkel Bøgeskov Svendsen, Jack Beeby)
"A first-person shooter where you can see everything at once. 360 degrees of intense, retro vision. Shoot in front of you. Shoot behind you." - Author's description
Download on itch.io (Windows)
---
Access to water (Rémy Sohier)
"Access to water tells two stories at the same time." - Author's description
Play on itch.io (Browser)
---
The Corpse Behind The Window (Andrea Pignataro)
"You have to sleep. To do that, you have to close your eyes." - Author's description
Download on itch.io (Windows)
---
The Somerton Man (David Cribb)
"On 1 December 1948, a body was found on Somerton Beach in Adelaide, Australia. From there unfolded one of the most perplexing (and still unsolved) mysteries of the 20th century." - Author's description
Download on itch.io (Windows, Mac, Linux)
---
Hi Polite Drifter (James Earl Cox III)
"What a polite drifter!" - Author's description
Download on GameJolt (Windows)
---
Toryanse: Reel (Nick Preston)
"Reel is a tiny, wordless, interactive short-story about an elderly woman exploring the building where she works." - Author's description
Download on itch.io (Windows, Mac, Linux)
---
Oἶκοςpiel Book I (David Kanaga, Fernando Ramallo)
"A dog opera in five acts" - Author's description
Pay what you want here (Windows, Mac)
---
So Broken (Corey Martin)
"A Sokoban game where the player is immune to the Undo button." - Author's description
Download on itch.io (Windows, Mac, Linux)
---
Draymond Green's Shut Up And Slam Jam Karate Basketball (Louis Meyer, Dave Lloyd, Jon Murphy, Ben Weatherall, Paul Dal Pozzo, Adrian Vaughan)
"Due to a scheduling error, the local rec center has been double booked for a charity basketball event and a karate championship! " - Author's description
Download on itch.io (Windows, Mac, Linux)
---
Living With The Moonoliths (Trias Studios)
"Explore the huge lunar landscape and find all secrets and mysteries kept in this area." - Author's description
Download on itch.io (Windows)
Download on Game Jolt (Windows)
---
Four Last Things (Joe Richardson)
"Four Last Things is a point-and-click adventure game made from Renaissance-era paintings and public domain recordings of classical music. It is about sin, and the Four Last Things – Death, Judgement, Heaven and Hell – and strives to be intelligent and ridiculous in equal measures." - Author's description
Purchase on Steam (Windows)
---
uncomfortably (Rebekah Saltsman, Adam Saltsman, Andrew Shouldice)
"a love story" - Author's description
Download on itch.io (Windows, Mac)
---
Circles (Jeroen Wimmers)
"Circles is an abstract puzzle game that takes your mind off things." - Author's description
Purchase for $8.99 here (Windows, Mac)
Purchase for $8.99 on Steam (Windows, Mac)
Purchase for $8.99 on itch.io (Windows, Mac)
---