Warp Door's October 2015 Round-up
October is mostly known for its final day: Halloween. As expected, there was no shortage of small games made for the occasion. Yes, our round-up of the last month includes goofy skeletons, eerie coffins, and lost ghosts.
But it's not all witches and rituals and the like. There's a reverie at the office and a story set inside a recreation of an IM client. Have a browse through our selection below. And if you want to find more convenient collections such as this check out our round-up tag.
---
To Burn In Memory (Orihaus)
"Explore a city that never existed, and uncover its secret history through the memories of a woman that lived its darkest moments." - Author's description
Play here (Browser)
---
Between Us (Josh Unsworth)
"That surreal time of the night when it feels like anything could happen." - Author's description
Download demo on itch.io (Windows)
---
Ghost Pond (Titouan Millet)
"Ghost Pond is an "aquarium", meaning that its only purpose is to be contemplated." - Author's description
Download on itch.io (Windows, Mac, Linux)
---
Picture Processing (Frank DeMarco)
"Un-glitch your screen and restore the NES's memory by swapping tiles back into their proper addresses" - Author's description
Download on itch.io (Windows, Mac, Linux)
---
sonam in the storm (James Shasha)
"for my parents" - Author's description
Download on itch.io (Windows, Mac)
---
Knossu (Jonathan Whiting, Bow Church)
"A non-euclidean horror game." - Author's description
Download here (Windows, Mac, Linux)
---
3am (Diane Mueller)
"A text game about the stillness of being awake at 3AM, despite all efforts." - Author's description
Purchase for $1 on itch.io (Windows, Mac, Linux)
---
▩▩▩▩ (George Buckenham)
"MacPaint pattern + noise + repeated convolution" - Author's description
Play here (Browser)
---
one with nature (☃)
"travel to the secret garden" - Author's description
Play on itch.io (Browser)
---
The Meeting (Mouse & the Billionaire)
"The Meeting is a procedural music composition disguised as a casual game for your phone." - Author's description
Download on the App Store (iOS)
---
6 feet under (ゐおり野)
"ちょっと怪奇な気分を味わいたい人へ。" - Author's description
Download here (Windows)
---
LUXURY $IMULATOR (Rebecca Merrill)
"a first person game-essay set in the last bastion of human civilisation" - Author's description
Download on itch.io (Windows, Mac)
---
skeleton flower (Loren Schmidt)
"a cross section of a particular time in a person's life, explored by browsing files in a fictional obsolete operating system." - Author's description
Download on itch.io (Windows, Mac)
---
Emily is Away (Kyle Seeley)
"an interactive story set in a retro chat-client." - Author's description
Download on itch.io (Windows, Mac, Linux)
---
Midnight. Swordfight. (Chandler Groover)
"A fool receives a challenge from a countess. Violence. Sex. Profanity. Sausage." - Author's description
Download it on the 2015 IF Comp site (Glulx)
---
homeland (rooksfeather)
"Something intangible crossed over, a memory, and someone caught it... You are getting these, right? Send me a letter if you're getting these. I miss you." - Author's description
Download it on GameJolt (Windows)
---
ten moons (RoboCicero)
"explore a house" - Author's description
Download on itch.io (Windows, Mac, Linux)
---
Birdland (Brendan Patrick Hennessy)
"Fourteen-year-old Bridget's summer camp experience takes a turn for the bizarre when her otherworldly bird dreams start bleeding into reality." - Author's description
Download it on the 2015 IF Comp site
---
Nethernovel (Damian Sommer, Ryan Roth)
"Damian and I made a game about what we think Undertale is about. (Note: we know next to nothing about Undertale.)" - Author's description
Play here (Browser)
---
I am dead where are my keys (Taylor Bai-Woo, Ben Swinden, Halina Heron)
"Drive like your life depends on it! but you're already dead." - Author's description
Download on itch.io (Windows, Mac, Linux)
---
Homesickened (Snapman)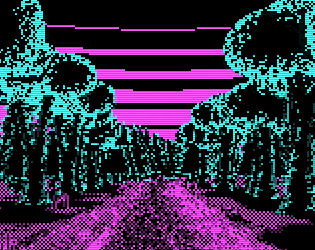 "A short story about rational fears in 4-color CGA." - Author's description
Download on itch.io (Windows, Mac)
---