Warp Door's September 2015 Round-Up

We've had plenty of requests over the months asking for more efficient methods of browsing the games we post here. We planned to have more filtering options such as 'Featured' games, an archive, and 'Recent Comments' located on the front page a long time ago.
But due to using Ghost, a publishing platform that's still in development, these features kept being delayed. Hopefully we'll have them up soon. For now, what we're going to do towards this goal is to have monthly round-ups. This is the first one.
There aren't any hard and fast rules on what games we're picking for these round-ups outside of choosing the ones we think you really shouldn't miss. Think of it as a highlight reel. And bear in mind that Warp Door is interested in games that are primarily a little different to the usual formats. This will factor into our choices too.
If you have any feature requests or feedback from now on please send them to warpdoor@gmail.com and we'll try to get them sorted as soon as we can if we consider them a good idea (and they're manageable). For now, check out the round-up below and look out for these in the future -- we'll keep them under the "round-up" tag for convenience.
(Psst, click on the headline to see the full round-up if you're on the front page.)
---
Super Poulet Poulet (Matthew Riche)
"If you get multiple kills on a single dash, you get a score multiplier" - Author's description
Play here (Browser)
---
Masques and Murder! (James Patton)
"Masques and Murder! is a Renaissance vengeance simulator: half skill-juggling RPG, half visual novel. Become fashionable at court! Gain the trust of the murderers through guile and skill! Strike when they least expect it!" - Author's description.
Download on itch.io (Windows, Mac, Linux)
---
Disastris (Terra-Cotta Frog)
"Blast your way through five unique cities on your campaign of destruction" - Author's description
Download on Game Jolt (Windows)
---
CHESTO - At the Checkout (Josef Who, Broken Rules)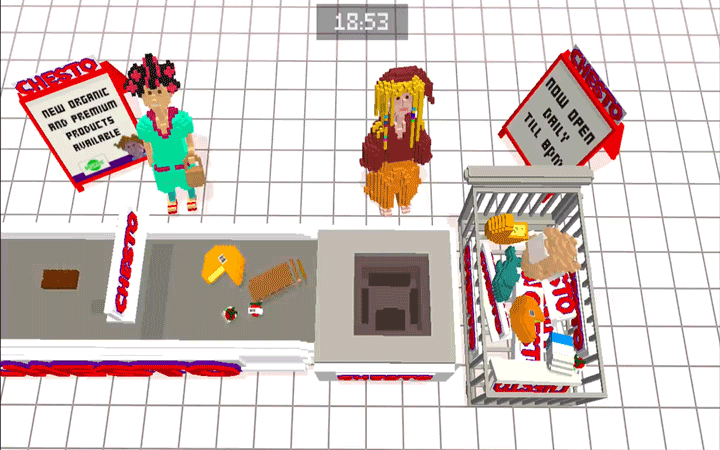 ""CHESTO - At the Checkout" is an arcadey social commentary with tongue-in-cheek characters and tons of voxel food." - Author's description
Download on itch.io (Windows, Mac, Linux)
---
The Monster Inside (Tyler Owen, Doug Auerbach, Clark Aboud)
"A film noir style audio-visual novella. A mysterious woman... a string of murders... and a man with a hidden past." - Author's description
Play / download on itch.io (Browser, Windows, Mac)
---
Ohmygod Are You Alright? (Anna Anthropy)
"ohmygod are you alright is an autobiographical game about the experience and aftermath of getting hit by a car." - Author's description
Purchase for $2 on itch.io (Browser)
---
The Sacrifice (foxboard)
"decide on what needs to be done in order to survive the island's harsh seasons." - Author's description
Download on itch.io (Windows, Mac)
---
#21: The World (lsddev)
"#21: The World is a surrealistic exploration game based on my dream journal I have kept for years. The game is heavily inspired by Osamu Sato's LSD Dream Emulator." - Author's description
Download on itch.io (Windows)
---
Trawl (Nate Gallardo, Danny Gallagher)
"Trawl the sea to discover what secrets are hidden in its depths and record your findings on your typewriter." - Author's description
Purchase for $5 on itch.io (Windows, Mac, Linux)
---
WEAVE (Nadav Tenenbaum)
"WEAVE is a short game about an abstract journey of two characters, who are both trying to cope with a shared event from the past in different ways." - Author's description
Play / download on itch.io (Browser, Windows)
---
Rinse and Repeat (Robert Yang)
"Rinse and Repeat is a steamy first person showering game about giving a hunk a helping hand." - Author's description
Pay-what-you-want on itch.io (Windows, Mac, Linux)
---
tentacles growing everywhere (Squinky)
"Puberty is weird and awkward, especially when you happen to be a tentacled space alien!" - Author's description
Download on itch.io (Windows, Mac, Linux)
---
Mystery Tapes (Strangethink)
"You have a collection of 640 strange and rare videocassettes that will take you on nice abstract adventures." - Author's description
Download on itch.io (Windows, Mac, Linux)
---
Electric Highways (Zykov Eddy, Xitilon)
"A VR engineer has finished his virtual reality project, but before uploading it on the web, he decides to visit it for the last time, plunging deeper into his own surreal world." - Author's description
Download on itch.io (Windows)
---
Fire Dance With Me (Robert Gaither, Anja Luzega)
"Pick your favorite Twin Peaks character and Dance Dance with Leland Palmer" - Author's description
Play / download on itch.io (Browser, Windows)
---
ICONIKA (CreateOCon Studios)
"An abstract visual novel puzzle game about perspective and death." - Author's description
Download on GameJolt (Windows, Mac, Android)
---
Gun Dream (Rylie James Thomas)
"Filling a room with glittery bullets. Trappign furniature mid-air and spinning." - Author's description
Download on Glorious Trainwrecks (Windows, Mac, Linux)
---
Notice Me Detective (Right, Left Click)
"Notice Me Detective is a first-person adventure/mystery/exploration comedy game." - Author's description
Download on IndieGameStand (Windows)
Download on GameJolt (Windows)
---